One of our long-time writers at Beep penned an article this week that has definitely got people talking, something we love to do here at Bringing Words to Life. The story was about being treated like an alien in your own region by people who think us 'northerners' talk funny.
Thankfully, Lauren, in true Northern style is able to rise above the derogatory comments that came her way from her fellow Durham uni students, but seriously, what are they teaching our young people down in the southern counties? With attitudes like this, is it any wonder we face the issues we do?
As an exceptionally proud Northerner, I am doubly proud reading this article and the fact that Lauren held these people to account. I hope they are squirming now at just how ignorant they look.
Read the full article here https://www.nebeep.com/things-posh-people-have-said-to-me/
It is always exciting seeing how our work impacts on the lives of the young people we work with. We thrive on feedback from students and staff alike; as it is that which allows us to make sure our programs are suited to the young people we work with. We have worked with St Thomas More secondary school in Gateshead since 2014 and we are always impressed by the progress the students make. Whether it is their contributions to
www.nebeep.com
or their submissions to our
writing competitions
, they always impress. So receiving feedback like this from Mrs Doyle, our point of contact and long time supporter of the work we do at St. Thomas More, really brings home to us, that we do to support literacy and communication for our young people, must continue.
"Bringing Words To Life" has made a valued contribution to our students' forays into journalism for a number of years now. Melanie first visited the school to help a low-ability class set up and undertake a journalism project (culminating in a recorded press conference with our local councillor), and subsequently has supported members of our weekly 'More News' club to explore the profession and develop their writing skills.
One of our key objectives has been to encourage students to use their 'voice': the school online newsletter is a valuable means by which to do this, but is not always an appropriate forum to discuss every political or social issue that might arise. It has therefore been very useful to be able to forward students' writing on more contentious topics to B**P for publication. Having said that, we have been able to share articles on important issues such as life in the pandemic; the provision of school meals; anti-vaccination movements etc. The students do appreciate this 'outlet' for their journalism."
This is the report we recently devised to show the impact of the work we did last term. The project, funded by the Big Local, saw us working with Kelvin Grove, St. Aidan's and Corpus Christi. The children and staff alike were very responsive to the work and we thoroughly enjoyed creating their school magazines with them and look forward to doing it again.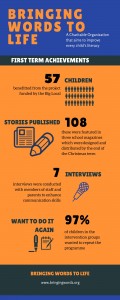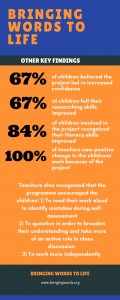 At Bringing Words to Life, we love nurturing talented young writers. We work hard to help writers develop their skills, and have put together our top five tips for young people who want to work on their writing. Without further ado, here are five pieces of advice to help you take your writing to the next level.
1) Read a lot
Newspapers, magazines, blogs, novels – it doesn't matter what. What matters is that you spend time reading what other people have written. This is one of the best ways to pick up ideas that you mightn't have thought of and to learn more the use of style in your work.
2) Keep up to date with the news
A good writer knows what's going on in the world. As well as giving you ideas for topics to write about, it'll also help you to see what people are worried and excited about, and what sort of thing interests them.
3) Know your reader
Who are you writing for? What are you trying to convey? The language you use and the topics you cover will look very different if you're trying to entertain a fellow teen than they will if you're trying to present a factual report for an adult businessperson. What does your reader already know? What do they want to know? How can you best present your ideas in a way that will interest them?
4) Practise accuracy
Spell checking is only the first step. When you are trying to produce professional quality articles, you need to check, check and double check. What is your punctuation like? Are you being consistent with things like italicising, speech marks, and layout? Have you included links, and checked that they lead to the correct site? This all requires practice and cultivating a sense of attention to detail.
5) Check your sources
So you've seen a 'fact' somewhere online – how do you know it's true? Learn to cross-reference any information from a range of different sources and distinguish between fact and opinion. Independent research is even better.
If you're a young person from the North East who's interested in journalism, then please email [email protected] to find out how we can help you!
For examples of young people's journalistic writing, follow @NEBeep on Twitter and check the b**p site for updates.

Photo credit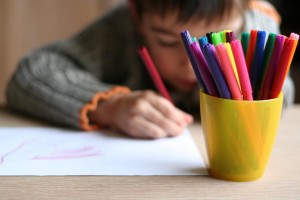 The Chris Evans Breakfast Show's 500 words competition is back for 2016!
The Duchess of Cornwall is to be the honorary judge for the competition and joining her on the judging panel are children's authors Malorie Blackman, Charlie Higson, Frank Cottrell Boyce and Francesca Simon.
BBC 2 reached a record last year with 120,421 entries.
500 WORDS is challenging children 13 and under from all over the UK to enter their original stories about any fictional topic, subject or theme and enter it online. The winner will have their story read live by a chosen celebrity…such as Sir Kenneth Branagh, Jeremy Irons, Hugh Bonneville or Benedict Cumberbatch.
As 2016 marks 400 years since the death of Shakespeare the competition will be held in The Globe in London, and is open from the 18th January 2016 and closes for entries at 7pm on February the 25th.
Winners from the two age groups 4-9 and 10-13 will receive prizes such as:
Gold winners- will win Chris Evans height (6.2")in books and 500 books for each of theirs schools.
Silver winners- will win Alex Jones' height in books (5.6")
Bronze winners- will win their own height in books.
Benefits of a competition such as this are that the children are encouraged to use their imagination and creativity in a positive and educational way. It will ultimately boost their self-esteem and give them a sense of achievement.
Children can enter the 2016 competition at   https://500words.external.bbc.co.uk/opportunity/1
For those of you who were unable to attend our AGM in November, please find a copy of our 
Annual Report 2014/5
 for your records. 
A study by think-tank Demos says some pupils feel school is just preparing them for exams. The study urges the government to help school and colleges explore self-belief, perseverance and resilience.
The 'Mind Over Matter' report is based on interviews with experts and a survey of 1,000 students, and from this, it is suggested that there is a steady decline in children's self-belief between 14 and 18.
33% of final-year students are half as likely to feel happy as 14 year olds (60%), it says. These 18 year olds feel as though there is too much pressure on exams rather than learning life skills and preparing for life outside the classroom.
This is understandable as stress from exams can have adverse effects on a students life, with so much focus being on grades and schoolwork, it is hardly a shock to see why these students are feeling down. The report also highlights some gender discrepancies, as only 39% of girls surveyed sad they were happy, apposed to 50% of boys.
There is an increasingly large body of research detailing how non academic factors such as resilience, grit and empathy have a profound impact on young people and their ability to succeed. It calls the adoption and practise of this approach 'a growth mindset', claiming the ideas behind it is simple.
'If we believe our intelligence and abilities are not fixed at birth, but can be developed through effort – if we have a 'growth mindset' – then we are more likely to look for challenges to see failures and setbacks as learning opportunities, and ultimately to achieve more personally and professionally,' it says.
So in practice, those with 'fixed mindsets' conclude they will never be able to achieve certain goals when faced with setbacks, big or small.
Report author Louis Reynolds said: 'Mindsets matter – they can hold us back or propel us forward to achieve more. This insight needs to be applied more systematically in our education system.
'That's why we have invested £5m to fund projects that will help young people to develop positive character traits, recognize excellent practice through the character awards and support research into what works best.'
For more information, click here.
Homesickness reaches its peak just three weeks into October Association of Train Operating Companies (Atoc) research suggests. Of the approximate 1.7 million journeys made across the entire rail network last year, over 337,000 were made using 16-25 Railcards. A 13% increase than the usual weekly average.
For railcard journeys originating in university towns, the figure was 28% higher than that of a usual week. the only busier time being around Christmas.
The top five cities 16-25-year-olds were traveling from in the third working week of October last week were:
– Exeter with 64% more journeys than the usual weekly average
– Durham up 61%
– Liverpool up 52%
– Bristol up 45%
– Birmingham 42%
Freshers must seem like a distant memory, and as the workload starts to build, many decide a trip home is the way to go (travel pun), data suggests.
Andrew Robertson claimed 'It's interesting to see such a clear spike in Railcard journeys in October.
'Going to university for the first time can be an exciting but daunting experience for young adults. And our research indicates that for many, the reality of living away from parents can really kick in after just a few weeks.'
He suggested that things like budget constraints, running out of clean clothes or the lack of a home cooked meal could be a few of the reasons why many students yearn for the comfort of their own bedroom.
'A trip home seems to be just what students need to recharge the batteries after a few hectic weeks at university,' he concluded. 
Latest research shows that children today show less interest in writing than they do in reading.
The report,
Children's and Young People's Writing
in 2014, 
has set out the findings for the fifth annual survey of more than 32,000 eight- to 18-year-olds. The findings were that children's enjoyment of writing has started to increase slowly over the last three years. However, they still enjoy writing less than reading (49.3% compared with 54.4%). Meanwhile, the percentage of children and young people who write daily 
outside 
of school and classes has remained relatively stable over the last few years, with more than a quarter (27.2%) saying they write outside of class daily. This is a rather stark contrast, due to the dramatic increase in children reading outside of class, which has risen from 32.2% in 2013 to 41.4% in 2014.
The problem could be that children do not see a connection between writing skills and job prospects. The research (quite shockingly) showed that young people do not associate strong writing skills with employability. Just over half of the pupils (54.2%) agreed that writing skills would lead them into a better career, and one in eight (12.1%) denied any connection between the two. 
The study also showed that writing enjoyment and frequency decreases as pupils get older. 57.4% of pupils in Key Stage 2 said they enjoy writing outside of school. This figure then drops to 47.1% in KS3, with a further drop in KS4, with just 38.8% showing an interest in writing outside of school. 
From a student's perspective it can be understood. Spending all day Monday to Friday – and further time at home on weekends – writing out essays and tests can reduce the desire to write outside of class. 
However, it has been shown that pupils who enjoy writing are six times more likely to write above their expected age level than pupils who do not enjoy writing at all (46.3% versus 7.3%). 
With writing becoming more popular in young children, it is hoped that in the near future, there will be a healthy balance in enjoyment between reading and writing, with each skill being just as important as the other.  
Councils across England are planning a new wave of 'super-size' secondary schools with between 12 and 16 form groups for each year. The government have claimed that larger schools could produce very good results.
But let's think of what effect this would have on students. Think about it. Kids today have enough problems at school without having a metric ton more people to worry about. Here we'll look at the pros and cons of what this could mean for student life in secondary school.
Cons
– Think how difficult it was to settle yourself into a friendship group when starting out in secondary school. The amount of new faces and names you had to get used to, including a new building, and new teachers – overwhelming.
– With the schools being planned for both urban and rural areas when pupil numbers peak in the next few years, there could be more than 2,000 students per school. And if that doesn't sound like a terrifying amount of humans to have in a single building, who knows what is.
– It would also mean having to get the appropriate number of teachers, and with the estimated 53% of teachers planning to quit in the next two years, there have to be some questions raised as to how the government will build these schools, and then equip them with relevant staff.
– There must also be confidence in the fact that students can maintain good behaviour and academic standards, according to Nick Gibb (Schools minister). If these schools are opened, would that mean smaller schools would be closed, and students from them would be transferred to the larger buildings? If so, what would happen to the teachers?
– Even minor things like travel could be an issue: how would (potentially) 2000 parents get their children to school, along with everyone else?  Traffic would be a concern, along with road safety.
However, while there are a number of things that could go horribly wrong with this ambitious plan, it cannot be denied that there may be some good to come from this.
Pros
– There would be an undeniably wide range of subjects to cover. With 2,000+ students, there will be more diversity in the subjects that could be taught due to the differences in interest. Things like drama, art and music – subjects that aren't as widely recognised as academic – may get attention from a wider number of students. Different languages could be introduced, from Spanish to Dutch, or even Japanese. There would be a vast array of subjects that could be taught.
– They could save money on building smaller schools, and with one large school, it could encourage more interactivity with the community, particularly in rural areas, as it could mean an entire village of people could be going to the same school, increasing the value of communication between things like student council and where the students live.
– With more students, it's more likely there would be a friend for everyone. Or potential for more students to become friends with those they might not have originally thought. However unlikely that may sound.
While these 'super-sized' schools won't be confirmed for the next few years, given pupil count, it would be wise to watch closely as this develops, – especially since, according to many, lots of the decisions the government has made  with regard to education haven't been the best.